• Alexandra Reynolds • 1920s • 1929 • 1930's • 1936 • 1940's • costume • EvaDress Patterns • My Personal Dressmaking • panties • Pattern Tour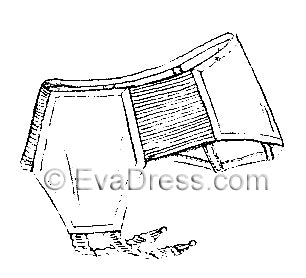 I missed National Pin Up Day (April 22, which was brought to my attention by an Instagram post by @its.goldie_frocks). So my National Pin Up Day contribution days later is this flashback to 2011 at the Raven Café Annual Halloween bash! I wore the 1936 Underpinnings (Bandeau & Panties) set with this garter belt for a through-the-ages pin-up ensemble, if you will. The result was the pass-off of a late-30's look. I sewed 1" wide silk ribbon over the narrower elastic passing through the garter stays to give that vintage look! 4-piece pattern originally from German Beyer's Modenblatt, there...
---
• Alexandra Reynolds • 1940s • EvaDress Patterns • panties • slip • The Week in Patterning Storyboard • underwear • Vintage Patterns

A single-size pattern I drafted some time ago and did not yet make available (until now)! A 1940's panties & slip pattern in size 40" bust, 34" waist and 43" hip in which the single panties piece means the pair is cut in one with front and back, so there is no side seam.   The waistline of the panties is fitted down via pleats at front, the top edge is finished with a self-straight facing creating a casing in which a buttonhole opening for elastic insertion (across the back edge only) is created.     The gored slip is fitted...